OMARE Workshop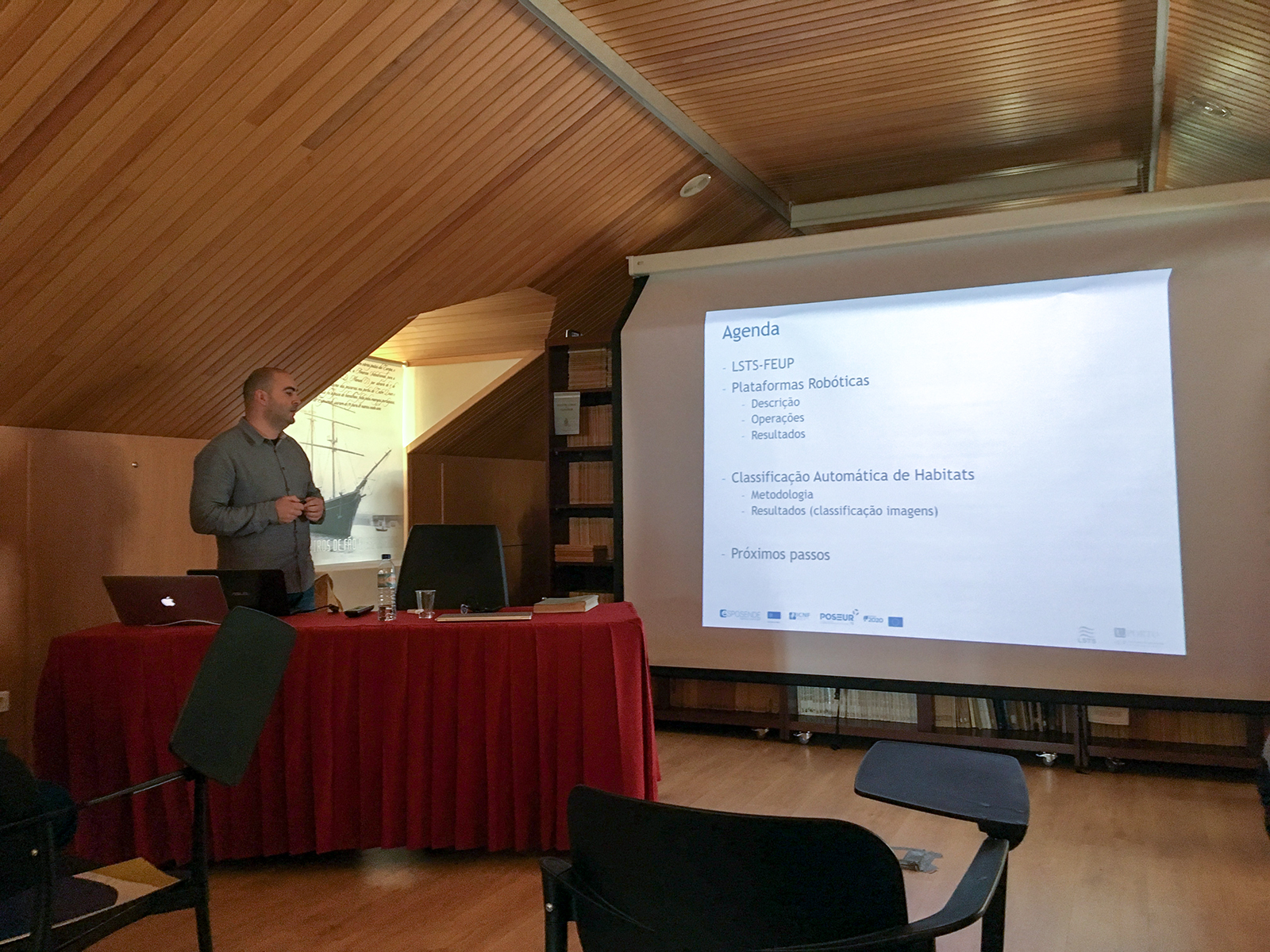 2019-03-21
On March 13th, an internal workshop of the OMARE project (Marine Observatory of Esposende) was held at the Maritime Museum of Esposende, with the participation of the Laboratory of Systems and Underwater Technology.
All the entities involved presented their methodology and results obtained so far within OMARE.
The Municipal Council of Esposende reported, through the intervention of Vasco Ferreira, the state of execution of all the tasks of the project.
The Institute for Conservation of Nature and Forests (ICNF) was represented by Luísa Jorge, who made known the geographic information system used by the ICNF.
The University of Minho reported the state of development of artificial reefs and environmental monitoring sensors, as well as a decision support system for park management.
CIIMAR presented the methodology for characterization and environmental monitoring of the park with collection of sediments, plankton, water, algae, etc.
The LSTS presented the different technologies (autonomous vehicles) that are being used in the marine park and how they are being used for mapping habitats.
To know more about this project, we recommend visiting the website: http://www.omare.pt
by José Pinto
----------------------------------------------
Workshop OMARE
No passado dia 13 de Março, decorreu no Museu Marítimo de Esposende um workshop interno do projeto OMARE (Observatório Marinho de Esposende), com a participação do Laboratório de Sistemas e Tecnologia Subaquática.
Todas as entidades envolvidas apresentaram a sua metodologia e resultados obtidos até ao momento no âmbito do OMARE.
A Câmara Municipal de Esposende reportou, através da intervenção do Vasco Ferreira, o estado de execução de todas as tarefas do projeto.
O Instituto da Conservação da Natureza e das Florestas (ICNF) foi representado pela Luísa Jorge, que deu a conhecer o sistema de informação geográfica usado pelo ICNF.
A Universidade do Minho reportou o estado de desenvolvimento de recifes artificiais e sensores de monitorização ambiental, bem como um sistema de apoio à decisão para gestão do parque.
O CIIMAR apresentou a metodologia para caracterização e monitorização ambiental do parque com recolha de sedimentos, plankton, água, algas, etc.
O LSTS apresentou as diferentes tecnologias que estão a ser usadas no parque marinho (veículos autónomos) e de que forma estas estão a ser utilizadas para mapeamento de habitats.
Para saber mais sobre este projeto, recomendamos a visita do website: http://www.omare.pt
por José Pinto